With St. Patrick's Day just around the corner I thought it was time to whip up these Drunken Irish Cupcakes I've been impatiently waiting to make. When you try them for yourself you'll know why! Spongy chocolate cupcakes with chocolate chips and Guinness folded inside are baked to perfection then topped with cream cheese frosting spiked with Bailey's Irish Cream. These cupcakes are guaranteed to have you doing an Irish jig in no time!
Makes about 18 cupcakes
Ingredients:
3/4 cup unsweetened cocoa, plus more for dusting finished cupcakes
1 bottle stout beer (recommended: Guinness)
1 tablespoon vanilla extract
Directions:
Preheat oven to 350 degrees F.
In a large mixing bowl, whisk together the cocoa, sugar, flour, baking soda, and salt.
In another medium mixing bowl, combine the stout, melted butter, and vanilla. Beat in eggs, 1 at time. Mix in sour cream until thoroughly combined and smooth. Gradually mix the dry ingredients into the wet mixture.
Lightly grease 24 muffin tins. Divide the batter equally between muffin tins, filling each 3/4 full. Bake for about 20-25 minutes until risen and set in the middle but still soft and tender. Cool completely on a wire rack.
Bailey's Cream Cheese Frosting:
8 ounces cream cheese, softened
3 cups confectioners sugar, sifted
5 tablespoons Bailey's Irish Cream
In the bowl of an electric mixer fitted with the paddle attachment, mix cream cheese and butter to combine.

Gradually add the confectioners sugar.

Whip the frosting until peaks begin to form.

Add the Bailey's and whip the frosting more to completely combine.
Frost the cupcakes and top with green sprinkles if desired.
Featured on Mrs. Fox's Sweets!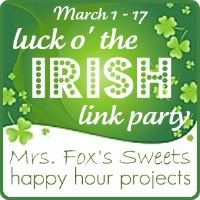 Print this Recipe